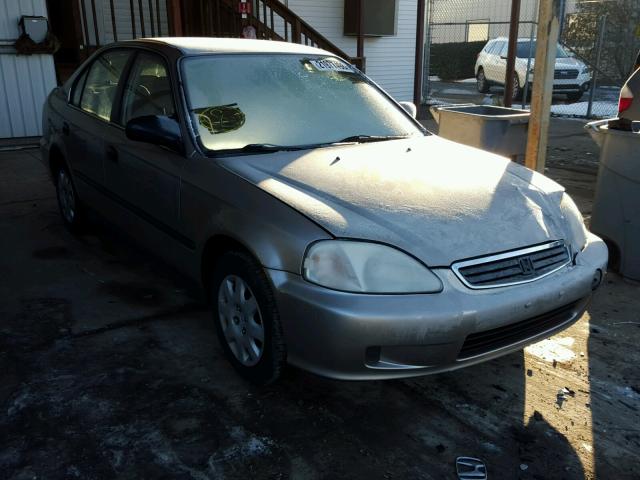 Lot # 21977498 Details
| | |
| --- | --- |
| Est. Retail Value: | $3,380 USD ? |
| Est Repair Cost: | $3,013 USD ? |
| Ownership Doc Type: | PA CERTIFICATE OF SALVAGE ? |
| Odometer: | 104,267 Actual ? |
| Primary Damage: | FRONT END ? |
| VIN: | 2HGEJ6670YH603209 2HGEJ6670YH603209 |
| Body Style: | SEDAN 4DR |
| Color: | BEIGE |
| Engine: | 1.6L 4 |
| Drive: | Front-wheel Drive |
| Cylinders: | 4 |
| Fuel: | GAS |
| Keys: | YES |
| Auction Verification: | Run & Drive Verified ? |
Bid Information
sale is over for this HONDA
View many more auctions for similar vehicle
Vehicle History Reports.
See more information on this lot.
HONDA CIVIC FOR SALE. Now in its ninth production generation, the Honda Civic remains one of the most popular compact cars worldwide. Redesigned in 2012, newer-model Civics boast subtle exterior changes and engineering improvements. In addition to good looks, the auto offers superior fuel-efficiency and power. AutoBidMaster makes it easy to purchase a late-model, minimal damage Honda Civic for sale, auctioned by Copart Auto Auctions.
The auto, available in both coupe and sedan body styles, is offered in four trim levels, ranging from base to the top-of-the-line EX-L. Base models have countless creature comforts like 15-inch wheels, intermittent windshield wipers, power windows, and a rear window defroster. Under the hood, a 1.8-liter, four-cylinder engine offers this front-wheel-drive auto 140 horses. Join AutoBidMaster to purchase a repairable- or no-damage Honda Civic for sale, auctioned by Copart.
Salvage Honda Civic purchases provide a more affordable alternative to new car buys. Copart stocks great-condition Honda Civic salvage sedans, allowing you to drive away in style.
Find more Honda for sale picks on AutoBidMaster, a registered Copart broker:Honda Civic, Honda Fit, Honda CR-V, Honda Insight, Honda CR-Z, Honda Odyssey, Honda Motorcycles, Honda Motorcycles , Honda Motorcycles, Honda ATV, Honda CR-V RC/LE, Honda Del Sol, Honda Element, Honda Passport, Honda Pilot, Honda Prelude, Honda Ridgeline, Honda S2000, Honda Trailer, Honda TRX250TE, Honda TRX250TM, Honda TRX350FE, Honda TRX450FE, Honda TRX500FM.
Are you looking for other brands too? Check out these selections:
Register today and get Free Membership! It's fast and easy.
Register Now