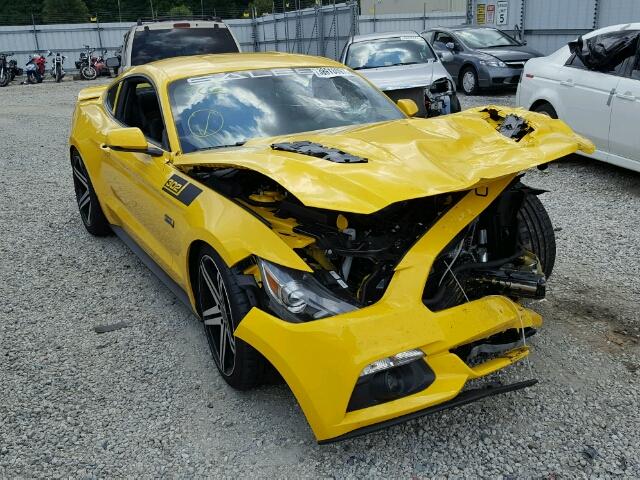 Lot # 38618097 Details
| | |
| --- | --- |
| Est. Retail Value: | $14,750 USD ? |
| Est Repair Cost: | $0 USD ? |
| Ownership Doc Type: | NC SALVAGE CERTIFICATE OF TITLE ? |
| Odometer: | 0 Not Actual ? |
| Primary Damage: | FRONT END ? |
| VIN: | 1FA6P8CF7F5363563 1FA6P8CF7F5363563 |
| Body Style: | COUPE |
| Color: | YELLOW |
| Engine: | 5.0L 8 |
| Drive: | Rear-wheel drive |
| Cylinders: | 8 |
| Fuel: | GAS |
| Keys: | NO |
Bid Information
sale is over for this FORD
View many more auctions for similar vehicle
Vehicle History Reports.
See more information on this lot.
FORD MUSTANG FOR SALE.One of the most popular household auto names you'll find, the Ford Mustang serves as the longest-running, affordable, classic muscle car. Sold always in convertible and coupe forms since its 1964 inception, the vehicle is the only original pony-car to enjoy uninterrupted production. Join AutoBidMaster to buy an early- or late-generation Ford Mustang for sale, auctioned by Copart Auto Auctions, and own an iconic piece of the Ford lineup.
The current Mustang, now in its fifth generation run, has something for everyone; the brand offers countless trim levels, body styles, and ample punch under the hood. Whether you want a classic muscle car or a fuel-efficient commuter, you can find the right salvage Ford Mustang for any needs. AutoBidMaster makes it easy to buy a no damage or repairable Ford Mustang for sale, provided by Copart.
Copart stocks nearly 1,000 unique Ford Mustang salvage autos, making it simple for you to find the best pony-car around.
Find more Ford for sale salvage picks on AutoBidMaster, a registered broker with Copart Auto Auction:Ford Aerostar, Ford Bronco, Ford Contour, Ford Convention, Ford Crown Victoria, Ford E350, Ford E350 Super, Ford E450, Ford E450 Super, Ford Econoline, Ford Explorer, Ford F100, Ford F250 Super, Ford F350, Ford F450 Super, Ford F550, Ford F550 Super, Ford F650 Super, Ford F800, Ford Fiesta, Ford Five Hundred, Ford Flex, Ford Focus, Ford Freestar, Ford Fusion, Ford MH Strippe, Ford Ltd, Ford Mustang, Ford Probe, Ford Ranger, Ford Taurus, Ford Thunderbird, Ford Transit Connect, Ford WindStar, Ford Trucks, Old Fords, Ford RV, Ford Motorhome.
See various salvage brands too:
Register today and get Free Membership! It's fast and easy.
Register Now